Why I created Starting to Write
Sometimes people think they need a 'big idea' in order to write. I wanted to show people that writing is more about 1) turning up and 2) noticing the world around you than having a big idea. I'm also interested in the ways in which mindfulness and Creative Writing overlap, so I made this course to share my ideas. The course is free and I've been flabbergasted by how many people have enrolled – from all around the world.

What some of the students have said
"The course is very simple to follow and understand. Louise was down to earth in explaining each step. For a first time creative writing student, it makes one feel as if they can write on anything and everything with out being critical or holding themselves back. Thank You, Louise" (Karen – 5 star reviewer)
"Yes, I feel its a perfect course for me, because I always think of writing some wonderful experiences which I have gone through. Always i get stuck with how to write, from where to start and whether the sentence is wright or wrong. with so many doubts I never wrote anything. With the help go this course I'm getting confidence and I'm getting exited to write and express my feeling through words. Thank you very much." (Roopa – 5 star reviewer)
What you'll learn in 'Starting to Write'
Fancy trying Creative Writing? This is a free beginners course where you'll learn that 'big ideas' are a red herring – you can start anyway. I also outline some practical techniques you can use to get you writing wherever you are. The course includes activities on word sketches and sense impressions, and writing on location.
Who is the course for
Absolute beginners who haven't tried creative writing before, anyone who wants to rediscover their creative side, copywriters and nonfiction writers who want to try writing fiction or poetry, as well as those who want to teach Creative Writing and need ideas.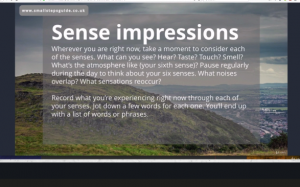 Try a sample activity
Wherever you are right now, grab a pen and paper, or your phone, or open a document on your computer, and write down in a list:
what you can see
what you can hear
what you can smell
what you can taste
what you can touch
what the atmosphere is like (your sixth sense!)
What next?
You can take a look at the course by clicking on the link on this page. Let me know how you get on.
Check out the other blog posts in this series here.
Tomorrow I'll give you a writing game to try called 'The Bag' that will help when you need to come up with creative ideas. Until then, happy writing.